John Toepfer Research Scholarship
John Toepfer Research Scholarship- In tribute to John Toepfer and the Prairie Grouse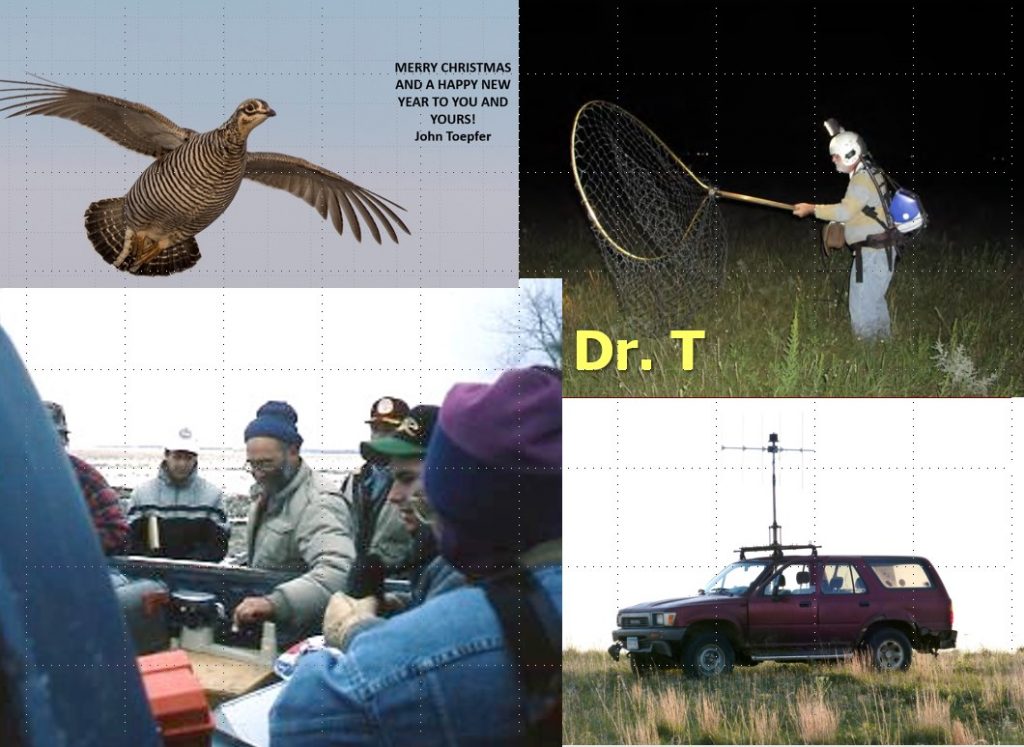 Fellow prairie grousers:
Most of you receiving this note will know that John Toepfer passed away this fall as a complication from hip replacement surgery. Oh My, what a guy. He was a dear friend to so many of us in the prairie grouse world and his passion for field research and conservation was hard to equal. A bit of a character to be sure but he loved people as well. About this time every year he would send out a unique Christmas card, as exemplified by the chicken in flight photo above. The lovely photo, taken by Steve Oehlenslager, perhaps suggests that "John has taken flight." John pioneered many field telemetry techniques. He is shown night-lighting chickens but in addition to the receiver, net, battery pack for the headlamp, he would be manipulating a hand-held antenna as well! Try this on a black night in 10-foot high corn or when you stumble onto a roosting covey of Hungarian partridge in the tall grass. John also loved Toyotas and a sample is included. After my family and I had put over 350,000 miles on this one and I passed it along to John, he got another 50,000. It was so rusted out when the engine froze up that as much dust would come into the cab as was stirred up on the road. And finally, pictured years back when he was giving a field lesson in telemetry to my wildlife students at the University of Minnesota, Crookston. Always generous with his time, he loved to educate, especially students, and he mentored a bunch.
So this little project is about John, and the prairie grouse, and the support of student researchers. John's career was varied and covered a lot of ground, starting with an undergraduate degree at U-W Stevens Point which culminated with a Master's degree working with Ray Anderson and Fred and Fran Hamerstrom. He would later receive his doctorate working with Bob Eng at Montana State University where his thesis would comprise 456 pages! John worked over several states but primarily with prairie grouse in the Midwest. From 1996 – 2015, he served as Research Consultant with the Society of Tympanuchus Cupido Pinnatus, Ltd. (STCP) in conducting field research on prairie chickens in Wisconsin and across their range. This was a group that was stewarded by the Hamerstroms. In this capacity John developed and carried out their flagship field research project: Prairie Chickens & Grasslands: 2000 and Beyond. John served on the Attwater's Prairie-Chicken Recovery Team and on the Board of the North American Grouse Partnership. In 2003, he received The Hamerstrom Award from the Prairie Grouse Technical Council for outstanding contributions in the field of prairie grouse biology. In 2009, he received the Minnesota Award from the Minnesota Chapter of the Wildlife Society. This is the Chapter's highest award and is presented to individuals that have made outstanding contributions to Minnesota's wildlife and natural resources.
Dr. Toepfer also served as the Principal Investigator on STCP's prairie-chicken research project in the Sandhills of Nebraska, perhaps the last, best place to study a large, stable population of prairie chickens in native habitat. This project titled: The Sandhills of Nebraska: 2012-2015 – A Focus on the Future set out to study the year-round ecology of greater prairie-chickens in the core of the range where healthy populations are associated with large expanses of native grassland habitat.
STCP dissolved into the George Miksch Sutton Avian Research Center (Sutton Center) in 2015. Dr. Toepfer joined the Sutton Center as the first STCP/Hamerstrom Prairie Grouse Research Chair, supported by funds donated by STCP. There he continued his life's work of conducting and publishing scientific research on prairie grouse as well as assisting with captive production and subsequent release into the wild of greater prairie-chickens at the Sutton Center's new Attwater's prairie-chicken captive breeding facility.
To honor John's life and help ensure his legacy, The G. M. Sutton Avian Research Center has created the John Toepfer Prairie Grouse Research Scholarship endowment fund. This fund will complement the STCP/Hamerstrom Prairie Grouse Chair position at the Sutton Center and provide opportunities for continued work on the prairie grouse John committed his life to saving. This fund will ensure the availability of perpetual support for graduate students studying prairie grouse. A steering committee is being organized to fine tune selection criteria in preparation for the first scholarship to be presented in November of 2019 in conjunction with the biennial meeting of the Prairie Grouse Technical Council co-hosted by the Sutton Center. Tax-deductible contributions can be made to the John Toepfer Prairie Grouse Research Scholarship and sent to: G. M. Sutton Avian Research Center, P.O. Box 2007, Bartlesville, OK 74005.
Dan Svedarsky is chairing the steering committee and will also be compiling a booklet of "Toepfer Stories" so send these directly to: Dan Svedarsky, Emeritus Research Biologist, Northwest Research and Outreach Center, University of Minnesota, Crookston, MN, 56716 or better to email to dsvedars@crk.umn.edu Many of us have our own versions of these fun experiences with John so write these down over the holidays during the slack time. All contributors will receive a hard copy booklet in 2019. To kick-start the fund-raising, Dan has donated $1,000. With another 24 of these checks, we are all set with the perpetual endowment but give what you can in this tax year.
For additional information on John's research visit: https://suttoncenter.org/research/society-of-tympanuchus-cupido-pinnatus/
Thanks much for your assistance and have a joyful Holiday Season.
Dan Svedarsky
18 December 2019