Sutton Scholarship Award
2020 Sutton Award
Congratulations to our 2020 winners! The chart below shows placements for the Photography, 3D and 2D categories.
NatureWorks Art Show information flyer 2020 (PDF)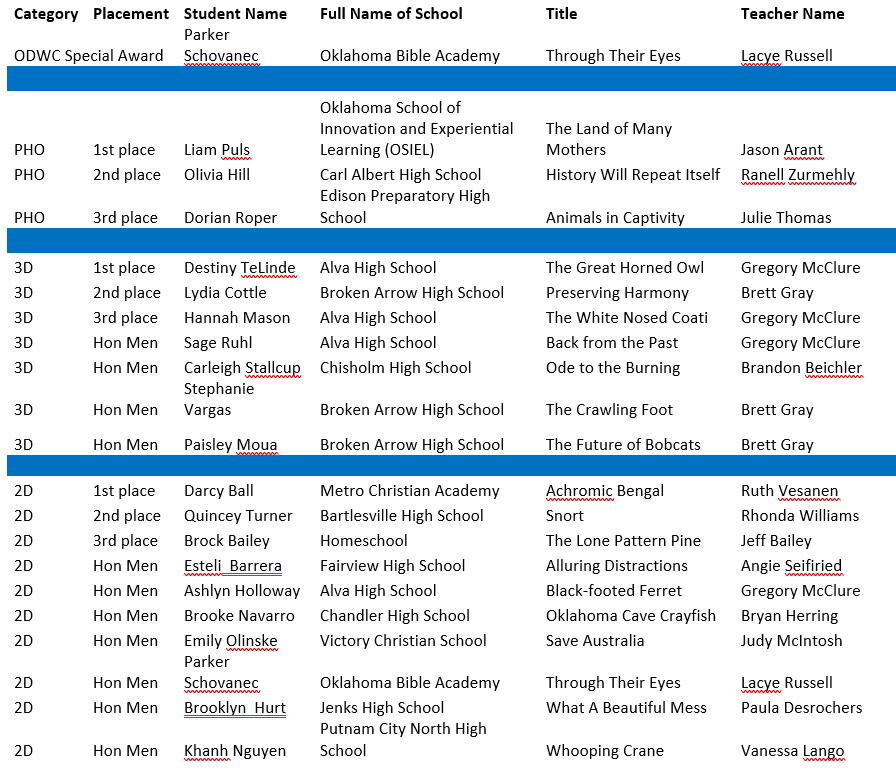 Here is a gallery of images from the 2020 student reception and awards ceremony.
Information
(PDF file)
Essay Rubric
(PDF file)
To create a strong work of art, keep
these
in mind. (PDF file)
ABOUT THE AWARD
Because people do not care about the things they do not know, EDUCATION is crucial to all of our conservation efforts. As an added challenge, we know that many young people have few opportunities to interact directly with nature and continue to be more and more disconnected from our natural world.
2020 marks the 16th consecutive year of the partnership between the Sutton Avian Research Center and NatureWorks, Inc. Through this Award more than 2,800 Oklahoma High School students have been encouraged to communicate conservation through art.
Today, as schools struggle to afford enrichment programs like the arts, it is exciting to be able to connect our conservation mission with schools to provide significant scholarships (up to $20,000) for students AND their teachers who work so hard to run their programs on shoestring budgets.
ENTRY INFORMATION

The Sutton Award is free to enter and open to Oklahoma High School students grades 9-12 (public, private or homeschool). In addition to the artwork, each student submits a 250 word essay that explains how his or her work communicates information about a current conservation issue. Each submission is judged 2/3 on artwork and 1/3 on essay.
Categories: 2D, 3D, photography
IMPORTANT DATES

December 2- Online Submissions Open | January 9- Online Submissions Close at Midnight | January 10- Artwork Drop-Off | January 11- Artwork Drop-Off | January 13-January 26- Artwork on Display at the HIVE in Jenks (call 918-299-5005 for gallery hours) | January 26- Sutton Award Reception (2 to 4 pm) and Artwork Pick Up (3:30-4:30) | March 7-8, 2020: NatureWorks Wildlife Art Show and Sale, Stoney Creek Hotel and Conference Center, Broken Arrow
AWARD RECEPTION INFORMATION
Join us for the Award Reception on Sunday, January 26 from 2:00-4:00 at the Hive Gallery (115 S 1st St.) in Jenks, Oklahoma. All artwork entries will be on display. Dress is nice casual. Family and friends are welcome to attend. A people's choice award will be selected along with the Sutton Award winner announcements!
All non-winning artwork must be taken home after the reception, no later than 4:30. The gallery will be closed at 5:00 pm. Please make arrangements for your artwork to be picked up if you are unable to attend. Winning artwork will remain with the Sutton Center following the reception and will be displayed at the NatureWorks Art Show & Sale March 7-8 at the Stoney Creek Hotel and Conference Center in Broken Arrow.
PUBLIC VIEWING of Sutton Award entries will be available at the Hive in Jenks (115 S 1st St) from January 13 to January 26, 2020.
Please consider making a donation to our scholarship fund. Your support not only helps young artists, but encourages students to learn more about wildlife and the need to conserve our natural heritage. If you would like more information about participating in the 2020 Sutton Award or becoming a sponsor, please contact Audra Fogle, Director of Development. audrafogle@suttoncenter.org
Thank you to our 2020 sponsors!
Barbara Bates