Nicaragua Parrot Survey
Nicaragua is a land of contrasts, and is poorly known by most Americans. It is not far from the United States, but most Americans can't even imagine its perfectly conical volcanoes. They don't realize that Lake Nicaragua covers an area of 3185 square miles (8250 sq. km), about half as large again as the Great Salt Lake, and is about 100 miles (165 km) long! And most Americans think of all of the tropics as "jungle," not realizing that areas such as the western half of Nicaragua are fairly arid and would remind one much more of New Mexico than of a Tarzan movie.
Nicaragua is a Central American country, lying south of Honduras and north of Costa Rica. It is a little smaller in area than the state of New York in the United States, and has about 4.5 million people.
Like most tropical countries, Nicaragua is also a country with parrots. The birds are found in all habitats—two or three of the smaller species live in the capital city, Managua. Nicaragua has a total of 14 species of parrots—the family Psittacidae, including the parakeets, macaws, amazons, and the like—most of which do live on the more humid Caribbean side of the country.
They include the larger species such as the Great Green Macaw and the beautiful Scarlet Macaw; medium-sized species such as the Yellow-naped Amazon and Red-lored Amazon; and smaller species such as the Peach-fronted and Brown-shouldered parakeets.
Parrot (psittacine) species occurring in Nicaragua.
| English Name | Spanish Name | Scientific Name |
| --- | --- | --- |
| Buffon's or Great Green Macaw | Lapa verde | Ara ambigua |
| Scarlet Macaw | Lapa roja | Ara macao |
| Green Parakeet | Chocoyo (Perico) pecho rojo | Aratinga holochlora |
| Green Parakeet | Chocoyo (Perico) verde | Aratinga holochlora holochlora |
| Aztec Parakeet | Chocoyo (Perico) frente oliva | Aratinga nana astec |
| Orange-fronted Parakeet | Chocoyo media luna or Perico frente anaranjada | Aratinga canicularis |
| Finsch's Parakeet | Chocoyo (Perico) frente carmesí | Aratinga finschi |
| Barred Parakeet | | Bolborhynchus lineola |
| Brown-shouldered Parakeet | Zapoyolito | Brotogeris jugularis |
| Brown-hooded Parrot | Perico cabeza parda | Pionopsitta haematotis |
| White-crowned Parrot | Lora (Cotorra) corona blanca | Pionus senilis |
| White-fronted Amazon | Lora frente blanca | Amazona albifrons |
| Red-lored Amazon | Lora frente rojo or Lora cari amarilla | Amazona autumnalis |
| Yellow-naped Amazon | Lora nuca amarilla | Amazona auropalliata |
| Mealy Amazon | Lora corona azul | Amazona farinosa |
Because parrots are prized as pets (in an ironic twist, Americans cannot generally keep our native birds as pets, but it's ok for us to keep other countries' birds in cages), Nicaragua also harvests its birds for sale in the international market, birds which may wind up in our pet stores. To evaluate the effect of the parrot harvest on wild populations, the Nicaraguan government and CITES Secretariat hired me in 1994/95 to make a nation-wide survey of parrot populations, on which to base their trade export quotas.
(CITES, the Convention on International Trade in Endangered Species, is an international treaty that regulates trade in living organisms. Most countries, including the U.S. and Nicaragua, are signatories to the CITES agreement.) This year, the government of Nicaragua, on its own and demonstrating a serious effort to manage its resources in a sustainable way, contracted with the Sutton Avian Research Center to have me make another survey to determine if there have been changes in parrot numbers in the last four years.
Any decrease in wild populations will indicate a need for decreasing the export quotas. The parrot surveys this year were carried out in February and March, which corresponds to the dry season and also the parrots' breeding season.
In late February, two Nicaraguan biologists (José Morales and Martín Lezama) and myself drove to San Jorge, on the west shore of Lake Nicaragua. We parked our rented Land Cruiser (four-wheel drive is often necessary on Nicaraguan back roads), and took a ferry 11 miles (18 km) into the lake to Isla Ometepe to complete a series of parrot surveys. Isla Ometepe is big, the largest island in a freshwater lake in the world, about 18 miles (30 km) long.
It's barbell-shaped, the result of two volcanoes side-by-side having grown together. We got to Moyogalpa, the largest town on the island, on the flanks of the most perfectly cone-shaped volcano you can imagine, the active Volcán Concepción. Time to rest a while and get lunch, fried fish of course, with fried banana, rice, beans, and lots of garlic, then start the evening counts.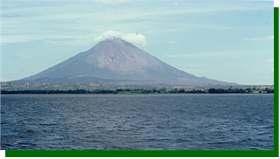 Parrot counting is work of early morning and evening. The birds don't like to move much in midday—they usually find a fruiting tree to sit in and eat, rest, and socialize. Next morning we got up around 4:30 am and drove across the island to the start of our survey route. First count, not much, just some Brown-shouldered Parakeets. Second count was more interesting, with both Green Parakeets and Yellow-naped Amazons. Between counts we also saw flocks of White-throated Magpie-Jays, Red-billed Pigeons, Ruddy Ground-Doves, a Cinnamon Hummingbird, the ubiquitous Great Kiskadee, Stripe-headed Sparrows, and lots of Scissor-tailed Flycatchers.
(Honduras and Nicaragua are where Oklahoma's State Bird goes for the winter, and they can sometimes be seen in flocks of thousands.) We also heard Barred Antshrike. Six more counts and we're done for the day. Our parrot list includes six species, pretty good for a site on the Pacific Slope of Nicaragua.
After we had completed the work on the Pacific slope, we crossed back to northeastern Nicaragua and began working on the more humid Caribbean slope. In the northern part we worked from a four-wheel-drive vehicle, but much of the central and southern parts of the Caribbean slope have no roads. There, we traveled by boat, sometimes as far as 200 km in a day.
The field work for the Nicaragua Parrot Survey was completed on 3 April 1999. During two months, the field crew made a total of 227 counts, each 15 minutes long, at places all over the country. We recorded a total of 2,045 individual psittacines of 11 species.
The survey this year was a repetition of a survey done in December 1994 and January 1995. On that survey, we recorded 3,592 individuals on 237 counts. We made 157 counts at the same points where counts were made in the 1994-1995 survey. This provided sufficient data to analyze the trend in population change for seven species. Of these, five showed declines and only two showed increases.
For thirteen species of Nicaraguan psittacines, the number of flocks recorded, the number of individuals, the number of counts on which the species was recorded, and the number of individuals per count.
| Species | No. Flocks | No. Individuals | No. Counts | No. per Count |
| --- | --- | --- | --- | --- |
| Buffon's Macaw | 0 | 0 | 0 | 0 |
| Scarlet's Macaw | 0 | 0 | 0 | 0 |
| Green Parakeet | 13 | 169 | 5 | 1.33 |
| Aztec Parakeet | 50 | 457 | 27 | 4.57 |
| Orange-fronted Parakeet | 77 | 470 | 42 | 3.70 |
| Finsch's Parakeet | 3 | 11 | 3 | 0.11 |
| Brown-shouldered Parakeet | 49 | 114 | 32 | 0.50 |
| Brown-hooded Parrot | 11 | 20 | 8 | 0.20 |
| White-crowned Parrot | 41 | 149 | 23 | 1.15 |
| White-fronted Amazon | 83 | 171 | 43 | 1.35 |
| Red-lored Amazon | 139 | 314 | 58 | 3.14 |
| Yellow-naped Amazon | 60 | 154 | 34 | 0.89 |
| Mealy Amazon | 8 | 16 | 5 | 0.16 |
| TOTAL | 534 | 2045 | - | 9.01 |
Since 1996, an average of about 6,500 individuals of ten species of parrots has been exported each year from Nicaragua. The domestic trade in psittacines in Nicaragua, that is, birds harvested from the wild but which are sold within the country and not for export, may be quite large, several to many times larger than the amount sold for international trade.
An important cause of the parrot population declines is habitat loss. Continued clearing of habitat, lumbering of forests, and increased cultivation, especially in portions of the Caribbean slope, reduce the available habitat for parrots to live and breed. The great amount of clearing taking place in Nicaragua at present is certainly detrimental to parrot populations. However, habitat loss may be a less-important factor in the declines of parrot populations on the Pacific slope of Nicaragua, because forests there were cleared many years ago.
We encountered no macaws during the counts or even when traveling between points. The low number of both Buffon's and Scarlet macaws, along with the declines in numbers of other parrots, makes it important that efforts begin immediately to protect these magnificent birds, through protection of their habitat and protecting them from over-harvesting for the domestic and international pet trade.
The Nicaraguan Parrot Survey is hard but interesting work, with early mornings and lots of travel. But helping to provide the scientific basis for careful use of this resource makes the work worthwhile. Conserving the resource is the goal, and this is what the Sutton Avian Research Center is all about: finding solutions.