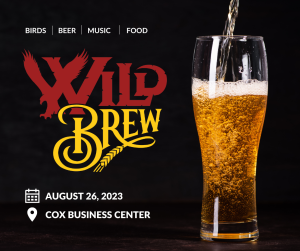 Save the date! The Greatest Party Ever Hatched will be held at the Cox Business Center on August 26th, 2023!
We hope you'll plan to join us for a night of food, beer, birds, music, and fun!
Want to be the first to know when Wild Brew tickets go on sale? Sign up for ticket updates here: https://suttoncenter.app.neoncrm.com/np/clients/suttoncenter/subscribe.jsp?subscription=13&secureIdCustomer=1&
All proceeds support wildlife conservation. Tickets are available on the Wild Brew website. You must be 21 or older to participate.
Click the links below to find out more about events we will be attending. Sutton's traveling displays are educational and fun. Stop by to measure your wingspan, test your knowledge about birds, learn about our recent work with endangered birds and enter to win prizes!