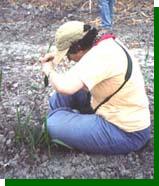 Among the many North American nesting grassland bird species showing declines in recent years, the Dickcissel is generating a good deal of conservation concern. This is not because Dickcissels are showing the greatest rate of population decline among grassland birds (they aren't), but rather because of a unique feature of their annual life cycle. Dickcissels, which nest over a large portion of the central and eastern U.S. each summer, migrate south to spend the (North American) winter in a very small area of the llanos, or central plains of Venezuela.
Even though they are very common in places across the eastern half of the U.S., nesting territories maintained throughout this large breeding range result in a relatively diffuse distribution of Dickcissels. During our winter months, however, Dickcissels become extremely gregarious and may be found in Venezuela in flocks numbering over one million birds.
During the daylight hours in Venezuela, Dickcissels spread out over the landscape of the llanos in flocks of hundreds to thousands, dividing their time between foraging in agricultural fields and resting in day roosts. Although Dickcissels eat mostly insects on their breeding ground, they are granivorous (seed eating) on their wintering grounds, and these enormous flocks can cause substantial crop losses to rice and sorghum fields.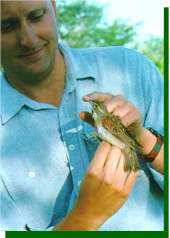 Most efforts by Venezuelan farmers to prevent such crop damage in the weeks preceding the harvest involve noise-making, either by people banging pots and pans in the fields, shooting air cannons or bottle rockets, or other methods.
In the early evening hours, these smaller flocks take to the sky, gradually coalescing into larger and larger flocks as they travel 20 km or more to favored roost sites in sugarcane fields. Wheeling and turning, in fluid motion as if of one mind, these breathtaking flocks eventually descend into the cane to spend the night. It is at the large roosts that Dickcissels are particularly vulnerable to destruction.
A few of the farmers attempt to poison large numbers of Dickcissels in such roosts through aerial spraying of pesticides. A single one of these farmers has the potential to wipe out a significant portion of the world's population of Dickcissels.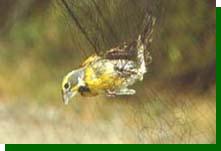 Because of the intensive nesting studies of Dickcissels made by the Sutton Center in Oklahoma prairies, we have a particular interest in this species. We felt that obtaining information on pesticide levels carried by Dickcissels on the wintering grounds would be useful baseline information from which to proceed with efforts to both ameliorate the crop damage done by Dickcissels and prevent mass eradication of the species.
Working with Dr. Angelo Capparella at Illinois State University, we proposed to measure levels of organochlorine and organophosphate pesticides in wintering Dickcissels. Here we describe our journey to a small portion of the "bird continent."
Clemencia Rodner, our contact with the Audubon Society of Venezuela, proved instrumental in helping us obtain wildlife permits for working in the country, arranging local logistics, introducing us to helpful and interesting people, teaching us about Venezuelan birds, and assisting us with our field work.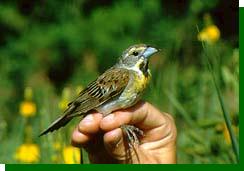 She is also an important part of a working group involving both affected farmers and conservationists that is seeking cooperative solutions to the complicated and potentially divisive issue of Dickcissels in Venezuela.
We also made contact with Robin Restall, a retired British executive now living in Venezuela and illustrating a guide to the birds of northern South America. With Clemencia's and his help, we set off for the llanos during the last week of February and the first week of March. We had been warned that despite the enormous numbers of birds flying to the night roosts each evening, it takes time to actually locate the roosts.
We tried following the flocks in the late afternoons, always seeking the dirt road that led in the direction of the birds' flight. Dead ends and distance were obstacles, and we realized that although we were making progress, we might not have sufficient time to actually locate a large roost.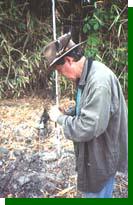 Fortunately, Clemencia knew many local people with useful information. One such person led us to a small roost near the town of Calabozo, and another pointed out a sorghum field near Acarigua to which Dickcissels came to forage each morning. These leads enabled us to complete our work, all the while viewing strange and beautiful birds punctuating the skies, fields and vegetation of the llanos.
Seeing the "other half" of the life of the Dickcissel, so different from its (and our) experience with it in Oklahoma, provided a sense of both understanding and awe of migration. Witnessing the efforts underway to reconcile any problems caused by Dickcissels with the conservation of this fascinating species, one can be hopeful that the incessant but none-the-less reassuring song of the Dickcissel will continue to be heard each summer on the prairies of the Great Plains, as long as we too do our part in maintaining the habitat they depend upon when they're here.