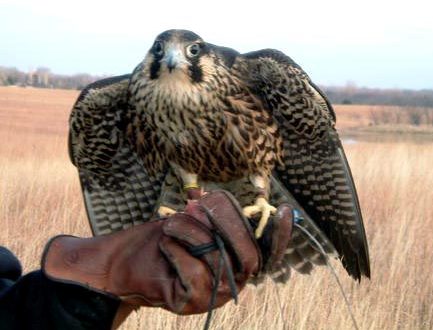 Peregrine Falcon – "Wiley"
(Falco peregrinus)
Distribution: Peregrines are found on every continent except Antarctica and live in a variety of habitats from tropics to deserts, from sea level to 12,000 feet.
Size: Peregrine Falcons are 15-20 inches long, weigh approximately 1-3 lbs, and have a wingspan of 3 1/2 feet. Males are about 1/3 smaller than females.
Diet: Birds such as jays, woodpeckers, blackbirds, sparrows, starlings, pigeons, and waterfowl make up the bulk of the Peregrine's diet (which they typically catch in the air). They are also known to eat mammals, insects, and reptiles on rare occasions.
Lifespan: These falcons can live up to 19 years in the wild.
Reproduction: Peregrines do not build nests, but scrape out a depression on a ledge, cliff, or in an abandoned stick nest, usually near a body of water. Here they lay 3-4 eggs which they incubate for 33 1/2 days until hatching. Fledging of young occurs at about 6 weeks of age. Young, however, usually remain in the family group for about six weeks after first flight.
Did You Know?
The Peregrine is named from the Latin words falco (meaning hooked beak or talons) and peregrinus (meaning to wander).
While attacking prey, Peregrines have been clocked diving in excess of 250 mph!
Peregrine Falcons were once an endangered species.
Due to pesticides like DDT, the birds laid thin-shelled eggs that were crushed by the parent during incubation. Thankfully, after the banning of DDT in conjunction with captive breeding programs, Peregrine Falcon numbers have recovered.