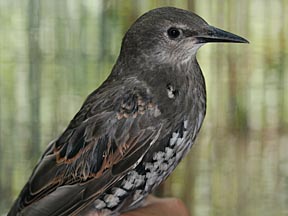 European Starling – "Pippo"
(Sturnus vulgaris)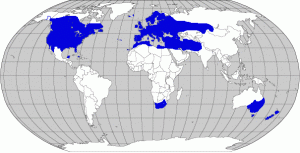 Distribution: European Starlings are found on most continents. In North America, they range from coast to coast and from northern Canada to southern Mexico, usually preferring the lower grasslands over mountainous regions.
Size: Starlings are small black birds about 7.5-9 inches in length with a wingspan that ranges from 11.5-15.5 inches. They have a mass of about 3 ounces.
Diet: Starlings consume a variety of things including small invertebrates, fruits, seeds, and oftentimes garbage.
Lifespan: The longest known lifespan of an individual wild starling is over 15 years. In captivity, however, they can live even longer.
Reproduction: European Starlings nest in cavities or in cavity-like openings in buildings or other structures. The typical clutch size is 5 to 7 eggs, and incubation duties are shared by both adults for 12 days. Young starlings fledge at about 3 weeks of age.
Did You Know?
All the starlings found in North America today descended from a group of 100 released in New York City in the late 1800s.
Although, only 15 pairs survived after the release, they multiplied rapidly to the estimated 200 million individuals found today.
A popular pet, starlings can be taught to mimic human speech!
Because it is not native to North America, the European Starling is not protected by law in the way that most other birds are, and it is illegal to keep most other wild birds as pets.