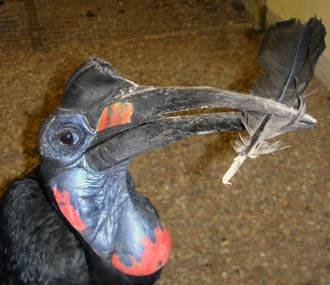 Abyssinian Ground Hornbill – "Beaker"
(Bucorvus abyssinicus)
Size: Abyssinian Ground Hornbills are about 3 feet tall, can have a wingspan of 6 feet, and weigh 8-9 pounds.
Diet: Hornbills typically forage as they walk along on the ground and eat small animals such as lizards, snakes, rodents, and insects, as well as some fruits and seeds.
Lifespan: Abyssinian Ground Hornbills can live for 40 years in the wild.
Reproduction: Reproductive age is around four years. Nests are on or near the ground in tree trunks or stumps. The female lays two eggs, which she incubates for a month while the male brings her food. The two babies compete for food, and after a few days one of them dies from starvation. Chicks remain in the nest for three months but may still be fed by the parents for nine months.
Did You Know?
Male hornbills have red on their throat pouch while females' pouches are all blue.
Abyssinian Ground Hornbills are listed as a vulnerable species and can only be found in reserves.
These birds prefer to walk or run. They typically only fly when startled or upon encountering tall or dense vegetation.
Hornbills are the only birds with the first two neck vertebrae fused together.
Hornbills have long eyelashes which are actually modified feathers!