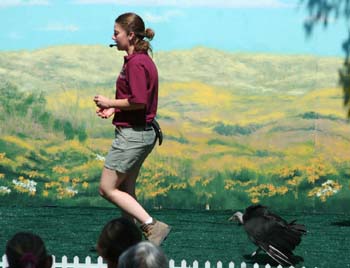 Note: The Sutton Center's bird program has been discontinued due to budget cuts and trainer departures. See below for a outline of what the program offered between 2006-2016.
---
The George Miksch Sutton Avian Research Center's educational program, "It's All About Birds!" is an exciting presentation involving live, trained birds that fly down to the stage right over the audience, and sometimes perform with participating audience members in an auditorium-styled, immersive experience.
This free-flight bird show is intended to educate, entertain, inspire and awe. Accompanied by rear-projected images, video, and music, the show is great fun for school kids and adults alike. It illustrates environmental conservation principles in a manner that is not only very entertaining, but is also educational and designed to fulfill Oklahoma's state educational objectives. Those who have seen this new program, which includes over a dozen species of native and exotic feathered friends, are already asking when they can bring their friends and see it again. Designed to help inform students as well as the public about the role birds play in the natural world, this program is currently touring middle schools and special events throughout Oklahoma.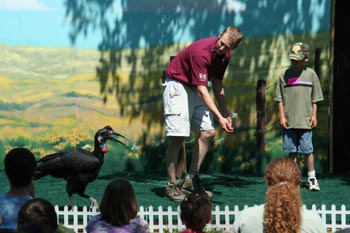 ---
Helpful Links