Click here for the Wild Brew Website
Along with a dedicated committee of volunteer organizers, the Sutton Center annually holds a major fundraiser in Tulsa centered around craft beer and fine restaurant tastings, Wild Brew. Proclaimed as "The Greatest Party Ever Hatched", this single-ticket event allows attendees to sample much of the region's wonderful selection of beer and food, including nearly 200 brews and 50 Tulsa-area restaurants.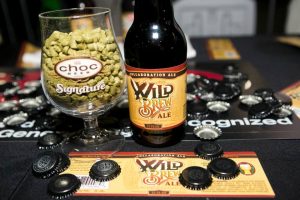 The event also features live bands, silent auctions, and special hotel and transportation deals for people to fully enjoy the experience. In recent years, we have also coordinated with an Oklahoma brewery to produce a special "Collaboration Ale" for the event that can be purchased at licensed vendors in the weeks and months before and after the event, respectively.
The event offers opportunities for corporate sponsorship of commemorative glasses, t-shirts, and other items. Patron packages are also available at various levels of support, giving businesses and individuals alike the opportunity to treat their special guests to a Patron Hour to kick off the event (when ALL the highest-demand food items are still available), as well as exclusive beer choices in a special Patron Area.
All of the proceeds from the event are used to support the conservation, research, and educational outreach mission of the Sutton Avian Research Center, a 501(c)3 nonprofit organization. Except for the fair-market value of the beer and food, the entire ticket/package price qualifies as a tax-deductible donation to the Sutton Center. For more information, visit the Wild Brew website at wildbrew.org.