In honor of the dedicated team at The Raptor Center in Minnesota, we've nicknamed this Bald Eagle "Minnie"
Active map (latest 100 locations)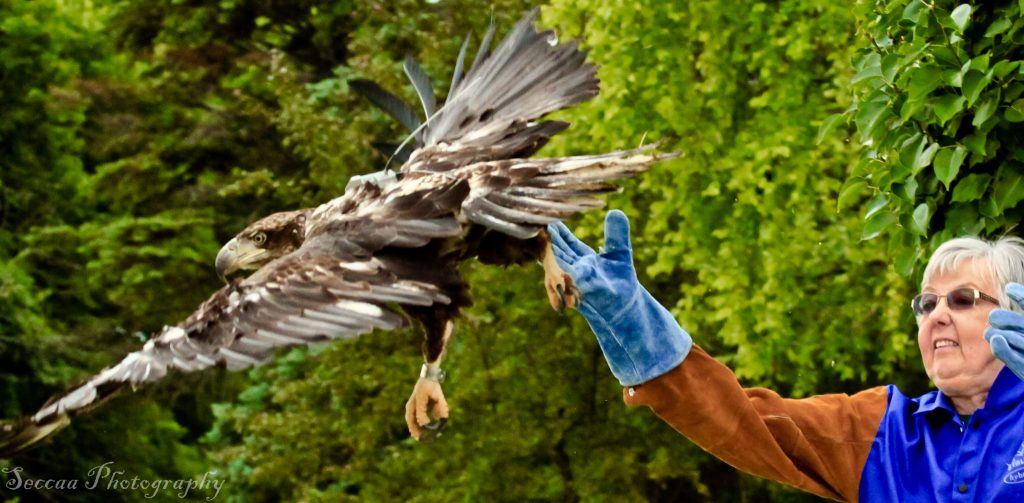 October 15, 2016
It is with regret we report that we were notified that in northern Missouri, Minnie was once again struck by a vehicle along a highway. Despite efforts to save her, this time she succumbed to her injuries.
July 7, 2014
Minnie underwent successful treatment and rehabilitation for her extensive injuries and was released in Minnesota on June 27 with a new transmitter so we can continue to monitor her movements. Our thanks to the people at The Raptor Center at the University of Minnesota for their hard work and success at restoring her to the wild!
February 6, 2014
Recovery is going well and Minnie has been moved into a flight room, although it will still be some time before enclosed, outdoor test flights can take place.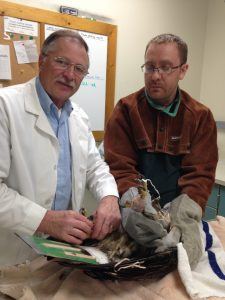 December 20, 2013
The serious injuries sustained by Minnie have led to a long recovery period. Surgical stabilization of the fractures has been successful so far, and the healing progress has been slow but good. If the eagle does heal to the point of being releasable again, it will still be a few months before its release could take place.
October 21, 2013
On Thursday, October 17 we received a call from The Raptor Center at the University of Minnesota. They had received an injured eagle wearing both a numbered federal leg band and a satellite tracker. Because the partial government shutdown had ended just that morning, they were able to track the band number through the national Bird Banding Laboratory and found that it had been banded in Oklahoma. The co-founder and Director Emeritus of The Raptor Center, Dr. Patrick Redig, knows the Sutton Center's Executive Director, and suspected that the bird might be one that we banded. Their phone call confirmed this. This eagle was banded by us on April 16, 2012 in Wagoner County, Oklahoma, and was known as the "Jackson Bay female" but is now affectionately referred to as "Minnie" on our eagle tracking website (http://www.suttoncenter.org/eagles/).  It had been found injured in a roadside ditch along Highway 68 near Cambria, MN. An examination by Dr. Redig revealed a broken leg and pelvis. Surgery was undertaken to stabilize these injuries, and initial reports are encouraging, although we are awaiting further developments as we continue to hope that the healing process will proceed successfully. While we do not know exactly what happened to this bird, the injuries it sustained and the location where it was found suggest that it was struck by a vehicle, perhaps as it was scavenging a road-killed animal.
The tracking data available on our website shows that as recently as October 4, this eagle was north of Beaver Creek Provincial Park in Manitoba. By October 8, it had moved south to near Bemidji, MN, and seemed to be establishing a southward movement pattern as would be expected for this season when eagles move south from Canada and the northern U.S. with the onset of fall and winter. After leaving its nest in the summer of 2012, this bird spend much of its first summer in Minnesota before moving south through Iowa, Missouri, Arkansas, and Oklahoma during September, October, and November of 2012.
It is disappointing to learn of the tragedies that can befall eagles, especially when it is an eagle that we have been involved in monitoring. The Sutton Center's Bald Eagle nest camera and eagle tracking projects make it possible to see and understand the many challenges faced by eagles and other wildlife, and it is our hope that these opportunities, while sometimes difficult to watch, will increase both public awareness of problems and the development of much needed passion for conservation.